Heating and cooling systems are one of the most important aspects to consider when building or updating your home, office, public institution, or other structure. Heating and cooling accounts for almost 50% of the energy used in a typical U.S. household (represented in the graph below with 41% of energy used for heating and 6% used for cooling), and in the average office building, heating, cooling and lighting represents 54% - 71% of the total energy use.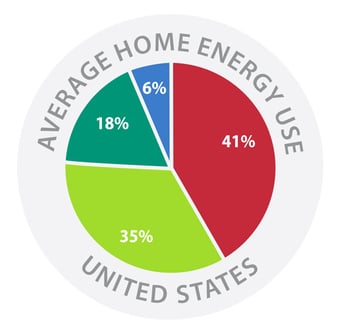 There's a way to lower this number for each type of structure. Geothermal heat pumps are the most energy-efficient, environmentally friendly way to heat and cool your home or facility. Geothermal systems utilize a renewable resource that never runs out to provide savings on energy costs all year. Any of the possible geothermal applications – and there are many – create the most comfortable and safe environment, and you can connect to smart thermostats for control no matter your location.
Geothermal heat pumps reduce energy consumption – and corresponding emissions –up to 44 percent when compared to air-source heat pumps, and up to 72 percent when compared to standard electric.

U.S. Environmental Protection Agency
Geothermal heat pumps provide heating and cooling in a variety of ways. They can provide radiant, in-floor heating and cooling, forced air heating and cooling, and 100 percent of your domestic hot water. You can use a ground source heat pump to heat the water for your pool, for snowmelt, or for radiant, in-floor heat on your patio. The options are almost endless for any type of building or home whether it be retrofit or new construction. You can find many real-life examples of homes and buildings using geothermal to suit their unique needs.
It's clear there are many benefits and options when heating, cooling, and having hot water powered by ground source heat pumps, but how does it work? The earth absorbs approximately 48 percent of the sun's energy, and the geothermal heating and cooling process puts that to use.
How Does a Geothermal Heat Pump Work?
Pipes are buried in the ground (this is known as a ground loop system), and a water solution flows through them. This solution absorbs heat from the earth in the winter and moves it to the geothermal system in the house. Once inside the indoor unit, the heat is condensed and transferred to the air – or water, if you have a radiant application – that is circulating throughout the home, providing warmth when needed.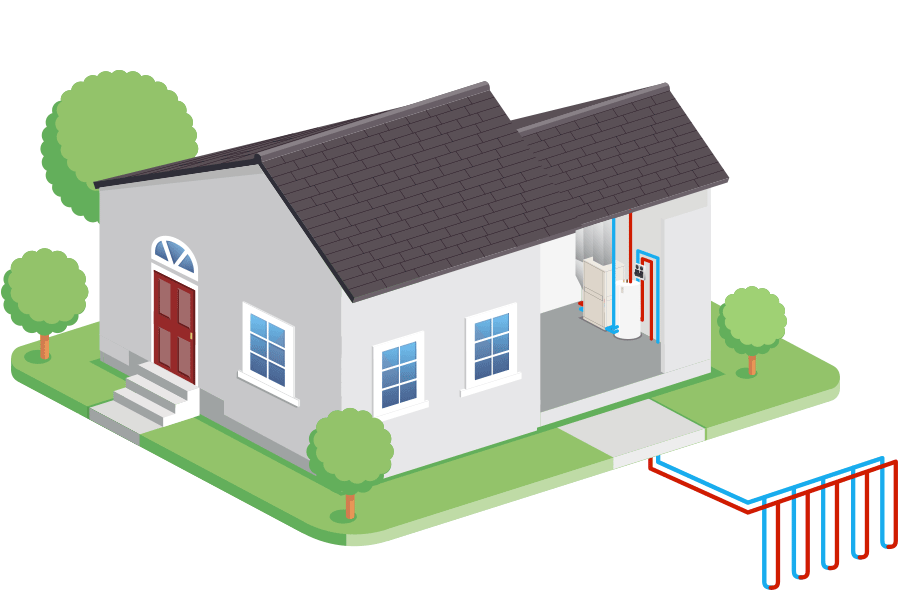 In the summer, the process is reversed.Heat is absorbed from the air inside the home, similar to how a refrigerator extracts heat to make it cool and transferred into the ground through the same loop system. The transfer of heat from one place to another (the home to the ground or vice versa) makes geothermal heat pumps 500% efficient.

The lifetime value of a geothermal heating and cooling system is longer than traditional heating and cooling options. The unit condensing heat is kept inside, so it is not exposed to harsh, outdoor elements. This, along with high-quality materials, makes geothermal units last 20 to 25 years – and sometimes longer. The ground loop systems buried outside last for a lifetime: 100 years plus!

It's simple: The best way to achieve zero energy with heating, cooling, and hot water – or lower your energy use in general – is to use geothermal.

To see how a geothermal heat pump would work in your home, take advantage of our the free geothermal design we provide.