In many parts of the country, snowfall has already started. It's official. Winter is coming (a nod to fellow Game of Thrones fans). Unfortunately, preparing your home for winter requires more than decorating, watching Hallmark Christmas movies, and finding the perfect candle scent.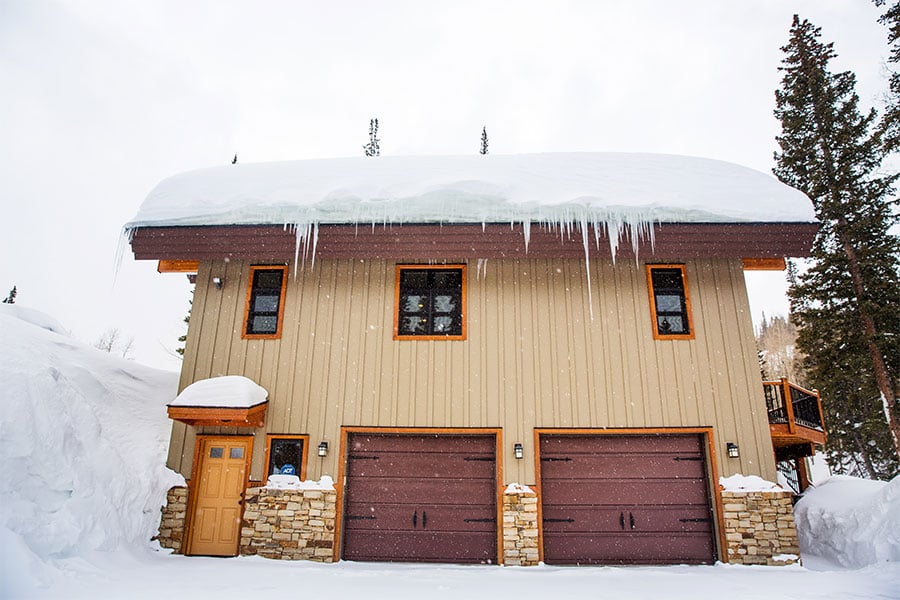 5 Steps to Get Your Home Ready for Winter
Put on Your Home's Winter Coat
When I'm indulging in my third or fourth Christmas cookie, I make the overused joke that I'm adding the extra bit of fluff my body needs to stay warm for winter. Like me, your house may need additional layers to stay cozy and keep energy bills low. Since air infiltration is one of the top causes of heating (and cooling) losses, it makes sense that the Department of Energy encourages proper insulation practices to quickly and cost-effectively reduce heating loss. Consider updating insulation in places like your attic and check for air leaks. There are two common ways to check for air leaks: the hand and candle test. With the hand test, place your hand around the edges of exterior doors, windows, vents, and fans to check for larger air leaks. You can detect smaller air leaks with the candle test. Turn off your heating system and place a lit candle where you think there's a potential leak. If the light dances around slightly, you might have a small leak. We recommend weatherstripping, expanding foam, or caulk to seal up air leaks. If you have any questions, concerns, or suspect you may need more of an insulation overhaul, it's best to contact a local HVAC professional or energy specialist.
Replace (or Clean) Your Heater Filter
How often should you change your HVAC air filter? Many air filters have recommended guidelines on the packaging that say something like, "lasts up to 3 months" or "replace every 90 days."If you have a dog or cat, it may need to be done more frequently, like every 45 - 60 days. Some higher quality filters can last 6 to 12 months, but a good rule of thumb is to check your air filter monthly and replace or clean it if it's dirty. Depending on your heater's options, you can purchase a washable filter to save on replacement costs and improve air quality.
Prepare Weather-Specific Equipment
Take measures so your tools are ready when you need them. Replace worn-out rakes and shovels, sharpen ice choppers, and buy bags of ice-melt or sand to have handy. If you have a snow blower, give it a tune-up or call for a service check to make sure it's working properly. The equipment you use in warmer seasons, like the lawn mower, should be winterized to avoid rust and unnecessary deterioration.
Stock an Emergency Kit
Buy candles, matches, or a lighter to use in case of a power outage. Locate the phone numbers of your utility companies and add them as contacts in your cell phone. Buy a battery backup to protect your computer and other sensitive electronic equipment. Keep extra bottled water and nonperishable food supplies on hand (if you have a pet, include their food), in addition to a first-aid kit, blankets, and rechargeable, portable batteries for cell phones. It's also advisable to keep a flash light that operates on batteries and one that operates from solar light.
Get Your Heater Some TLC
Furnaces usually break on the coldest day of the year, which doesn't mean you have bad luck. It's because that's when your heater is working the hardest. To avoid this, schedule an annual furnace inspection with a local HVAC installer before winter really sets in. In a typical scenario, this will keep your heater in top shape all season long, but in the worst case scenario, you may find that you need to schedule a furnace changeout. If the latter is the case, research your heating options before making a decision. You may find that the most earth-friendly and cost-saving choice isn't the cheapest upfront.
As a bonus tip, if you have a solar array, take steps to prepare it for winter, too. Getting your home ready for winter isn't thrilling work, but taking the time to do it makes for a much more comfortable season. If you find that you're in need of a new heating system, check out our Simple Guide to Choosing a Heating and Cooling System.