Americans spend more than half of their income on a place to live, whether that be renting or owning. We spend 4,000 to 6,000 hours per year in our homes. It's no wonder we want to continually improve the place we put most of our resources and time into. Whether you're building a new home, renovating your house, making home improvements to sell, or spicing up a space you're renting, you'll find there are 2019 home trends you shouldn't miss.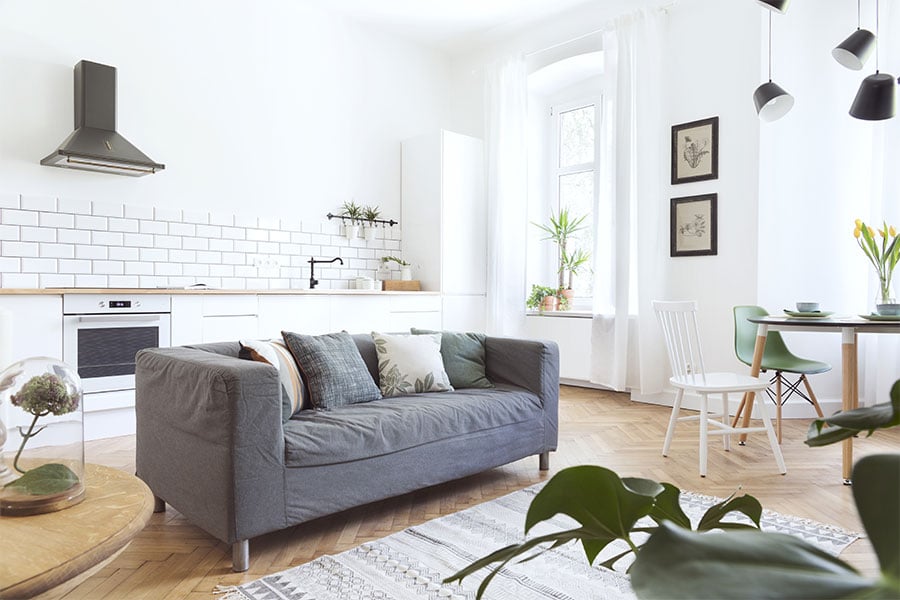 10 Home Trends to Follow in 2019
Focus on Personal Well-Being
With popular phrases such as, "treat yo' self," it's no surprise there's a focus on being cozy and content in your home. We crave a safe haven. Comforting shades like muted pastels and lilac gray and warm colors like mustard, soft clay, and hazelnut will gain popularity in 2019. Continue to expect products like throw pillows and blankets with soft textures to quickly make a space more cozy.
Conscious Design for All Spaces
Interior design is focusing on more than average-sized or large homes. Trends like tiny houses open our minds to the possibilities of what a small space can do when furniture incorporates function and beautiful design. In early 2018, Pottery Barn launched its small space collection, Pottery Barn Apartment. Retailers will continue to offer furniture and storage options that make a better use of space.
Natural Elements
Dark wood floors started losing popularity in 2018, which leads industry experts to believe there will be an increase in light wood floors. Regardless of floor color, non-toxic, sustainably-created flooring will continue gaining popularity. Hand-made furniture with local, natural materials will continue to be popular, as well. What's better than supporting a local company and having one-of-a-kind furniture?
Mixed Metals
Using mixed metals in homes started as a trend in 2018, and it will continue into 2019. Gone are the unwritten rules that said appliances need to match fixtures or other room accents. When it comes to mixing metals, remember that matte black goes with everything, including brass, copper, brushed nickel, or silver. Also, copper or gold goes well with stainless steel appliances. The best part of this trend is that you don't have to do an overhaul on the metals in your home, which allows you to update on a budget.
More Than Just a Front Door
Predictions point to blue being the door color of choice in 2019, and the popularity of smart home features for doors will continue. Some smart locks work with your smartphone to alert you when the door opens and closes, offers temporary codes for guests, and can lock or unlock through the app on your phone. Energy-efficiency isn't just for insulation and windows; it applies to front doors, too. Before buying a new front door, research its energy performance ratings.
All-Electric Homes
Local governments in California have updated their building codes to encourage all-electric homes, and with nonprofits like GreenHome Institute showing the value of all-electric homes, we see this trend continuing well past 2019. All-electric homes offer new construction and renovated homes major benefits, including reduced energy bills and construction costs while improving resident health. With the popularity of PV solar, it's logical to commit to electric homes so solar can generate the power and supply $0 (or close to it) utility bills. We recommend a 4-step process of geothermal heat pumps and solar to minimize environmental impact, lower energy costs, and go all-electric.
More Natural Light
Natural light saves energy and money, increases focus, and reduces stress and anxiety. If you're building a new home, you're in a unique position to install larger windows and situate your home and windows so you can take advantage of passive solar heat. Not building a new home? No problem. There are ways you can increase interior natural light, like painting your eaves white.
Open Kitchen
The open floor plan concept is nothing new, and in 2019, predictions point to a focus on open kitchens, specifically. People crave a casual, yet connected lifestyle. Open kitchens prompt more interaction, easy entertainment, and comfortable cooking. An open layout for your kitchen means more than tearing down walls. Open shelving allows you to display your beautiful kitchenwares, heirlooms, and antiques, and since you can see through your storage, items are easier to find.
Home Exteriors
There are a few key trends for home exteriors in 2019. These include dark on dark color combinations. A combination of shades like charcoal, black, dark blue, dark green, and dark red will be used to create a striking effect. Keeping with the striking effect, the classic white exterior home with black trim will continue to gain popularity. Colors that project warmth and comfort, like grays and blues, will be used as primary exterior colors with black accents, too.
Sustainable Living That's Accessible
According to the National Association of Realtors, 61% of people are interested in home sustainability. Energy-efficient appliances, sustainably made goods (like the natural elements mentioned previously), geothermal heat pumps, and PV solar all play an important role in making homes more sustainable. Federal and local incentives in addition to flexible payment plans make sustainable living easily achievable. Sustainable home communities, like Whisper Valley in Austin, TX, show that it's possible to build (or remodel) sustainable, zero energy homes on a budget and at scale.
Some design trends come and go, but we've noticed that sustainable and energy-efficient trends are here to stay. When looking at home and buildings that have geothermal heat pumps, we noticed that regardless of the year, sustainability and energy-efficiency are a priority.